Don't let your textiles go to waste: A hole new story #jeans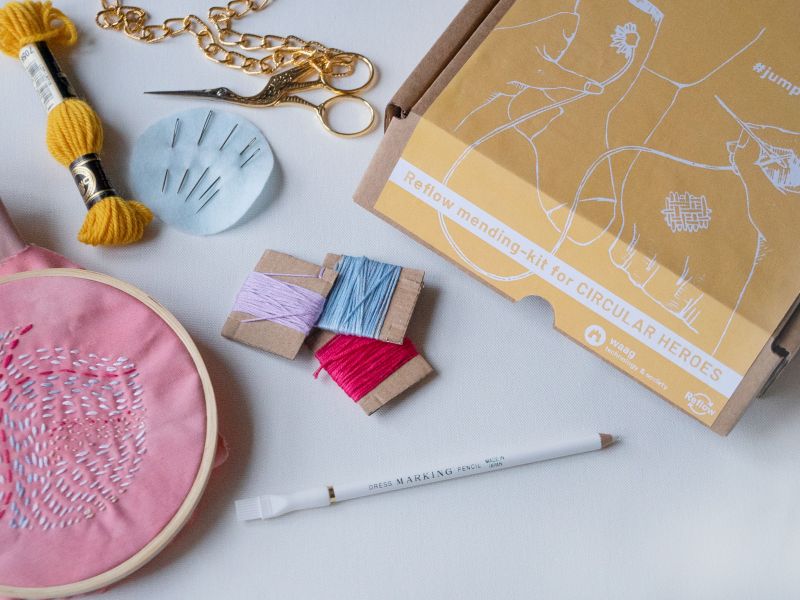 Don't hide these holes any longer!
Throughout history and across cultures, people have been mending textiles to extend their beauty and wearability. During this Reflow workshop you will revisit the ancient craft of visible mending, from hand darning to simple stitching tricks, to learn how to repair and embellish holes in your jumpers and socks!
Hand darning is a sewing technique for repairing holes or worn areas in fabric or knitting using needle and thread alone used for the functional reinforcement of clothing.
Additionally, you will learn how to embellish holes by emphasising their presence in a colourful way or close them into visible and beautiful designs.
 In line with Reflow values, the workshop will especially take into account the correct use of materials, as mono material products have much higher chances of being recycled, in textile terms this means 100% wool, 100% cotton and not mixed compositions.
As part of the workshop, you will receive at home a kit with all the tools necessary to follow the exercises. Please note that the kit can be delivered in The Netherlands only.
After the workshop you will have a good base to pursue these techniques at home to revalue and give your clothes a new life!
Join us and become a circular hero!