Pecha Kucha Night : REFLOW PARIS #1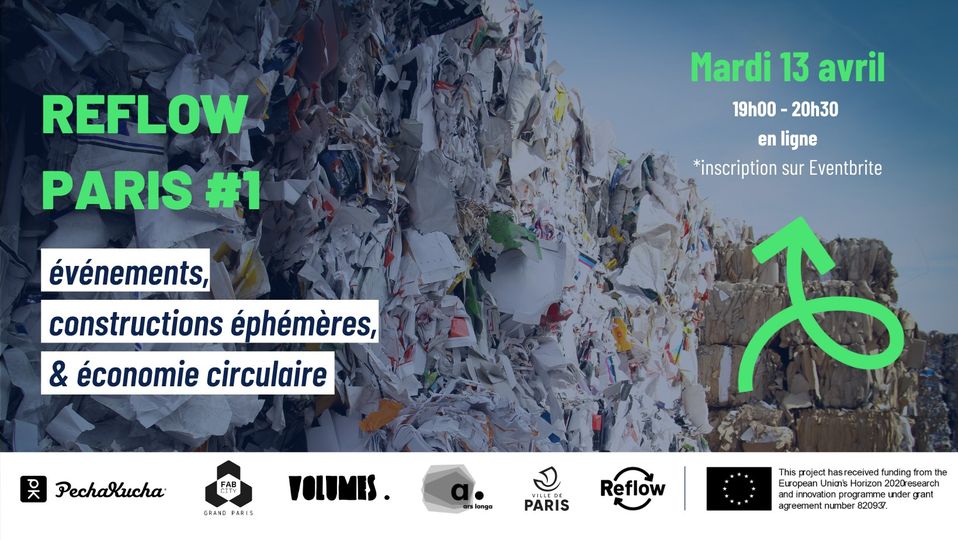 ♻️ Paris hosts more than 400 trade fairs and receives more than 10 million visitors each year. This particularly energy-intensive activity produces and generates numerous temporary structures as well as large quantities of waste.
This economy, and its ecosystem, is still having difficulty synchronizing its efforts in order to respond to issues related to the life cycle of materials.
▶ ️ Fab City Grand Paris invites you, Tuesday, April 13, to the first Pecha Kucha evening of the Reflow project. This online conference will focus on the reuse of materials generated by the event industry.
On the program: an overview of emerging – and impactful – practices initiated and operated by actors invested in the circular economy:
➡️ The Arts Reserve
➡️ Paris Convention and Visitors Bureau
➡️ Metabolic
➡️ French Union of Event Trades
➡️ Co-recycling
➡️ Driven & Elements
In accordance with the principles of Pecha Kucha, each speaker will present their approach in 20 slides, and will have 20 seconds for each of them. The presentations will be followed by a time for discussion with the public, so you will be able to ask questions to the speakers.
* Volumes is the official organizer of Pecha Kucha Night Paris. This first edition is hosted by the Fab City Grand Paris association, of which Volumes is a co-founder.