REFLOW WEBINAR #3: Data-enabled circular cities
03 March 2022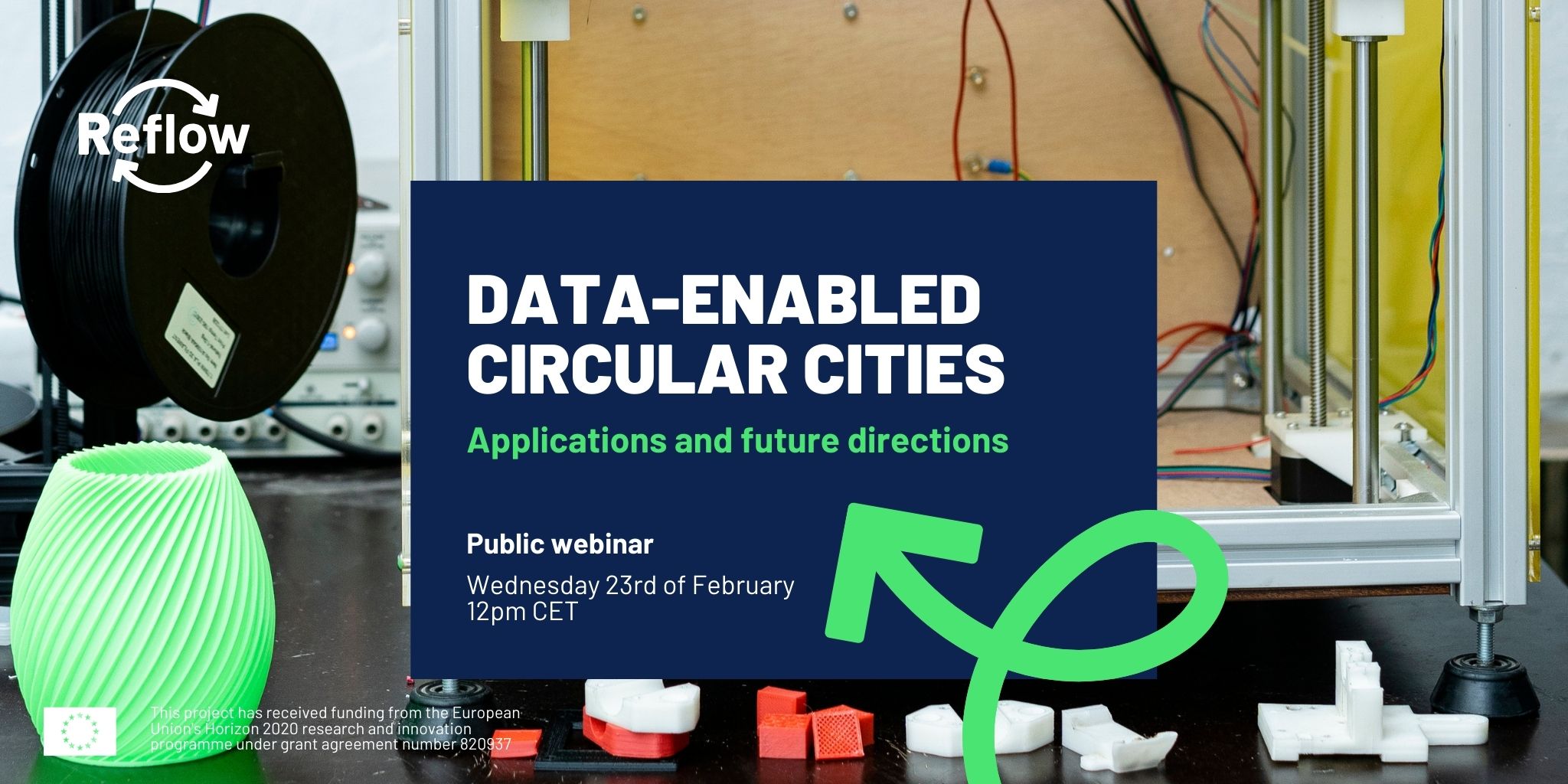 Pairing the digital revolution with the principles of Circular Economy (CE) has the potential to radically transform our urban landscape and its relationship to materials and finite resources. A number of digital applications (digital product passports, IoT and AI solutions) are currently emerging and reshaping how resources flow within cities. Digital technology is rapidly becoming a key enabler for unlocking the value from Circular Economy strategies. How can we harness the potential of data for public good?
In the third webinar of the REFLOW webinar series, experts and practitioners from the European REFLOW project – which aims at co-creating and testing regenerative solutions at business, governance, and citizen levels to create a resilient circular economy, presented the IT solutions developed in the project and reflected on how  a digital circular economy could be scaled up at EU level to make the most of its potential. The video recording and main takeaways are summarized below.
REFLOW OS: AN OPERATING SYSTEM TO CREATE FEDERATED ECONOMIC NETWORKS
Adam Burns from Dyne introduced  the REFLOW OS and its technical pillars.
The REFLOW OS is an operating system designed to empower autonomous communities to create federated and secure economic networks to foster the creation and improve the coordination of distributed and circular value chains. It comprises three core components: The ReflowOS Server, which provides full lifecycle flow processing, together with state-of-the-art multi-signature cryptographic trust in a decentralised network, from embedded devices to the cloud; WeLoop, which is the first standard ReflowOS client web UI application – flexibly designed in a modular framework to assist cities to develop their own custom Reflow OS interfaces; and finally, the Open Data Dashboard, an aggregate data visualizer to aid cities in the  identification & optimization of circular practices in material and economic flows of local ecosystems. REFLOW OS is built upon four technical pillars: 
In a nutshell, REFLOW OS enables decentralised, federated networking for continuous exchange of economic and material flows amongst autonomous peers, based on a standard shared vocabulary for tracking and tracing economic  and material  resource  flows across their full lifecycles. It offers a state-of-the-art cryptographic verification of material flows integrated with blockchain technologies for transparent trust and reliable auditing through material passports. Lastly, it integrates aggregate data visualization tools to aid in discovery & optimisation of further circular practice opportunities across material and economic flows.
REFLOW OS IN PRACTICE
What concrete applications can REFLOW OS support? Stefano Bocconi from Waag presented one specific use case, in the context of Amsterdam's goals to make textiles value chains more circular. 
Taking as a starting point the outcomes of a Material Flow Analysis highlighting the linearity of the textile flowing in and out of the dutch city, results showed that discarded textile items mainly end up incinerated together with regular waste. Developing solutions that can support an extended use of textile during its useful lifetime is thus a key priority to reduce textile waste at city level.
In that regard, the Swapshop concept store, which enables the "swapping" of used clothes between users, is a relevant initiative aligned with the city's circularity goals. But how can we keep track of the items and get data on how these are swapped, used, and recycled? How can we get insights on the motivation of the customers to swap?  Would creating a storytelling associated with each item provide additional incentive for the customers to take care of its clothes?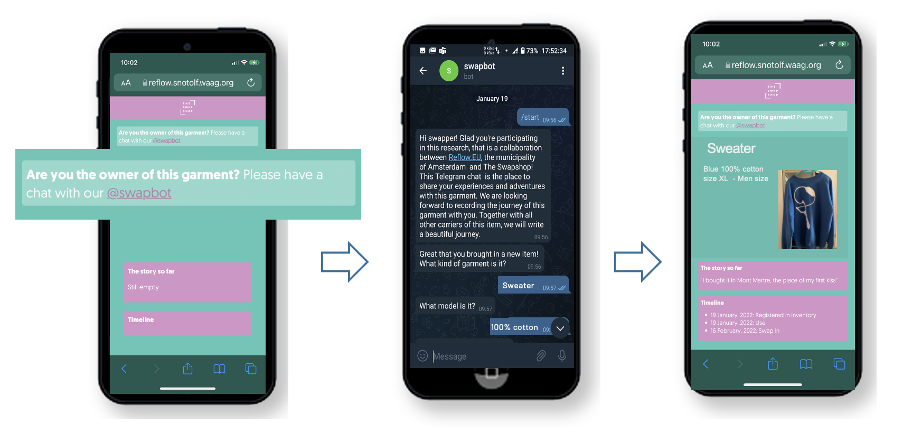 There, REFLOW OS became useful to model the flow of events occurring between each swap and keep track of associated relevant data. By adding a QR code to the swapped items, each item can be characterized through an innovative chatbot conversation asking each item's owner to provide easy to input information on the item. The prototype is currently in its pilot phase and will in a next phase offer the possibility to track textile items beyond the use phase, by including collectors and recyclers in the conversation.
How can data tracking support the development of waste free urban food systems? That's one key challenge the city of Milan is currently tackling in the context of REFLOW. Enrico Bassi from Opendot, an active member of the Milan REFLOW pilot, presented  Botto, an innovative solution developed in the context of municipal food markets of the Italian city.
The reduction of food waste is one of the priorities of the Milan Food Policy and since 2016 the Municipality of Milan has worked to find solutions to reduce food waste and to innovate the ways of recovering food to be donated to the needy. Following a co-creating process involving different local stakeholders, the Botto solution was designed as an automated communication system, integrated with a signal and tracking system that facilitates the reallocation of surplus food between fruit and vegetable wholesalers, organizations fighting food waste and other organisations helping people in need.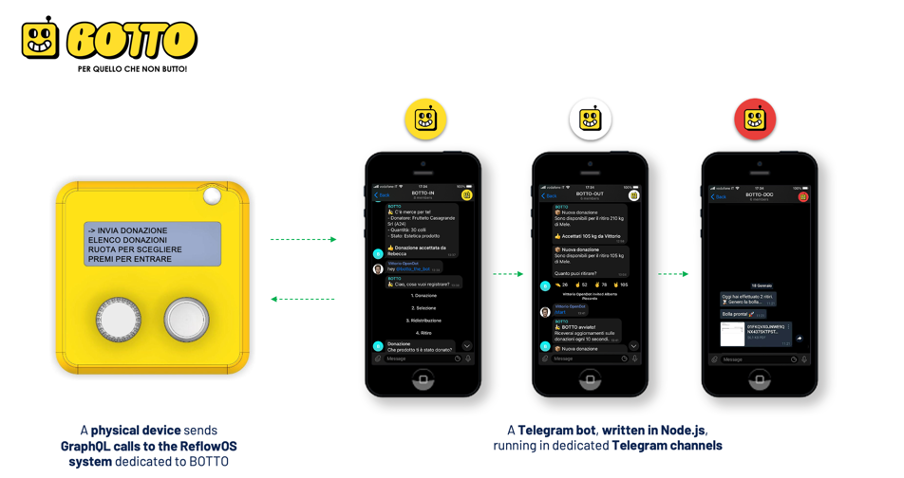 The system runs via an IOT device ("Botto") and a telegram bot, to simplify the donation process. For those on the supply side, using Botto allows for the reduced expenses on waste management and improved social and environmental sustainability. On the demand side, Botto makes it possible for actors to have a quick and real-time overview of the available food. Thus, charities do not need to spend time on coordinating the redistribution of food and the logistics involved with these activities. There, Reflow OS allows for a complete tracking of the characteristics of the surplus food donated (type, quantity, quality) making it possible to monitor the overall amount of food waste diverted.
FUTURE DIRECTIONS IN THE DIGITALISATION OF CIRCULAR ECONOMY
In the last three years, The REFLOW project has demonstrated several concrete applications on how to use data and tech to make cities more circular. But what are the next steps at EU level to scale up a digital circular economy? Stefan Sipka from the European Policy Centre (EPC) highlighted existing challenges currently hindering the development of a digital circular economy: lack of access to good quality data, concerns over data protection and security, the difficulty in managing supply chain complexities and the lack of incentives for businesses to share data. As a response, several policy recommendations should be taken forward: establish a sustainable digital information system for circularity in the EU; bridge the European data space(s) with circular economy to enable effective information transfer; establish harmonized rules on using digital product passports and use economic and financial tools to enhance digital information transfer in circular value chains.
INTERESTED IN LEARNING MORE? 
Watch the full webinar here,  browse through the  REFLOW Academy resources, or join the conversation on the  REFLOW Forum. 
Read the latest EPC publications on digital circular economy