Data-enabled circular cities: Applications and future directions – Webinar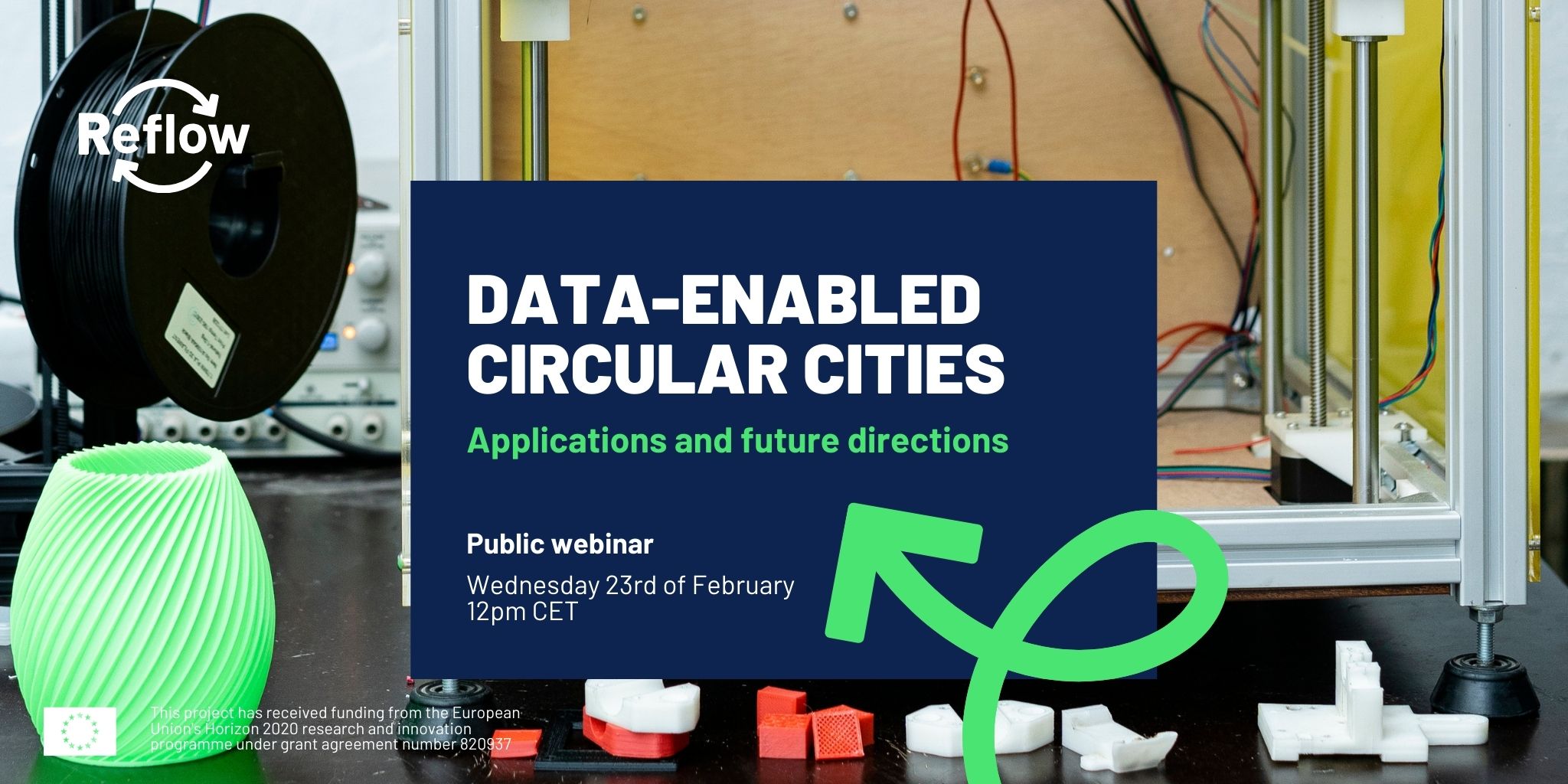 Public webinar:
Wednesday 23rd of February at 12PM online
Pairing the digital revolution with the principles of a Circular Economy (CE) has the potential to radically transform our urban landscape and its relationship to materials and finite resources. Digital product passports, IoT and AI solutions for distributed value chains, etc. A number of digital applications are currently emerging and reshaping how resources flow within cities.
Digital technology is rapidly becoming a key enabler for unlocking the value from Circular Economy strategies. How can we harness the potential of data for public good?
In this webinar, experts and practitioners from the European REFLOW project – which aims at co-creating and testing regenerative solutions at business, governance, and citizen levels to create a resilient circular economy – will introduce the set of IT solutions that have been developed and implemented in six European pilot cities, and discuss how to scale up a data-enabled circular transition to other European cities.
The REFLOW OS is an operating system for communities who want to create federated and secure economic networks to foster the creation and coordination of distributed value chains. It is a system designed to operate federated nodes constituting the REFLOW network back-end infrastructure. It is targeted for adoption by the Free and Open Source communities at large and consists of a living document that is publicly available online and maintained through the course of the REFLOW project.
Speakers and focus:
Adam Burns, Dyne: Introducing the REFLOW OS – an operating system for communities creating federated economic networks in distributed value chains
Stefano Bocconi and Taco Van Dijk, Waag: Implementing the REFLOW OS capabilities in the context of the Amsterdam Circular Textile Value Chain

Enrico Bassi,

Opendot: 

Implementing the REFLOW OS 

capabilities in the context of the 

​

Milan Food Market 4.0

Stefan Sipka, European Policy Centre (EPC): Reflecting on the digitalisation for the circular economy work of the Brussels-based independent non-for-profit think tank's policy-related
Erwan Mouazan, Ecovala: Capacity building and knowledge transfer at REFLOW