REFLOW CASE STUDY #2: Wasted Efforts in Amsterdam?
03 March 2022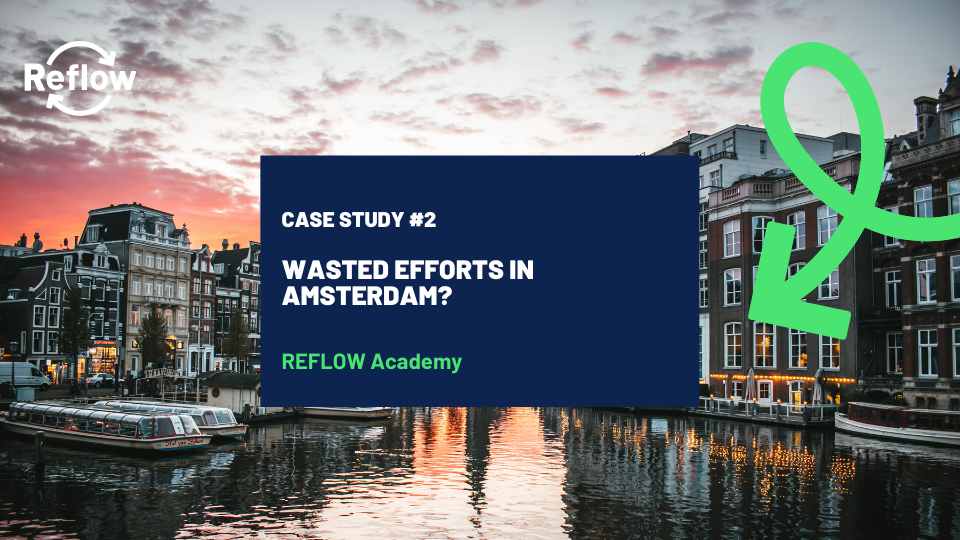 This case study is part of the open source REFLOW case studies collection which is built upon the learnings from activities and actions taking place in the pilot cities of the REFLOW project. The case studies link practice and theory and are designed to be used as teaching material in different academic settings, as circular economy transition in cities can be addressed from different academic lenses – urban studies, consumer studies, business studies, sustainability studies…
Synopsis of the Case
This case is based on a real organisation that has carried out activities as part of the European Union Horizon 2020 project, REFLOW.
The protagonists in this case are the Amsterdam pilot team. The overall long-term goal the team seeks reach is to transition their textile stream in the city towards becoming circular and regenerative. Short-term, the pilot team focuses on empowering citizens and changing linear behaviours associated with textiles across two key aims:
Discarding of fewer textiles by extending their life through reuse, repair, revaluing, and reducing
Increasing the collection of home textile waste at the city-level by informing and engaging citizens to discard correctly
The case goes over key insights into the decision-making process of the Amsterdam team, including facts on linearity in the textile industry at the global and local level, information about the citizens of Amsterdam, and a list of potential activities the team needs to decide on. The Amsterdam team is faced with a timely decision where they need to pick five key activities that would allow them to reach specific project targets in the short-term and that would also induce long-lasting change in the future.
This is a decision-based case. It asks the students to step into the shoes of the Amsterdam pilot team. The case study challenges students to formulate recommendations regarding which key activities the pilot should carry out and to assess the activities that could lead to behavioural change.
Target Group
The case is suitable for graduate levels in consumer behaviour, service design and behaviour, environmental psychology, circular economy, and behavioural economics courses.
Learning Objectives and Key Issues
The learning objectives of the case sets out for students to evaluate solutions that would most likely lead to behavioural change in citizens, while also meeting project targets and goals. After completion of this case, students should be able to understand the following:
The challenges of linear model in the textile industry and the transition to circular economy
The circular economy in relation to the textile industry
The gaps between good intentions and actions
Different behavioural change strategies to influence action in citizens
Teaching material
Download the full case study
Download the teaching guide