Urban metabolism is part of the strategic toolkit for developing circular and regenerative cities. It describes and quantifies the main flows (e.g., materials and energy) that enter in a city, which are used or stored, and then that leave that city, thus offering an integrated and holistic viewpoint of all the city's activities, of its levels of resource productivity and urban systems' efficiency and sustainability. How can we make the best use of this approach to accelerate the transition to regenerative cities?
In REFLOW first webinar, Urban metabolism for circular cities, experts and practitioners from the project reflected on urban metabolism, highlighted its benefits and challenges, and discussed how to scale up the potential of this tool to European cities. The video recording and main take-aways are summarized below.
Material Flow Analysis: a key leverage point in transitioning European cities to a regenerative and circular state.
Elizabeth Corbin, research director of Metabolic Institute (NL), introduced the  'urban metabolism' approach,  a powerful tool for urban transformation. By treating the city like a living organism, the approach allows to visualize what resources a city consumes alongside the waste that's generated. This provides a holistic view of the city – how natural systems, economic sectors, and human activities interact, and where the biggest impacts, inefficiencies and opportunities are. 
Within REFLOW, Metabolic has used this approach to map how each REFLOW city currently functions, which local actors are influencing key nodes, and where the associated direct and indirect impacts are being felt. Importantly, it hasn't been positioned as a technical method developed and delivered by external experts alone. Instead, it's been an act of collective intelligence building. For each city, the analysis was done through close collaboration with a local driving group to ensure smooth integration with the city's existing systems change approach.  The results are now used periodically refine the goals, action roadmaps, and monitoring systems of each city, taking an agile approach to urban system redesign.
As an illustration, the Vejle pilot has set out to gain insights into urban plastic consumption and to increase the circularity of the city's plastic value chains – with a particular focus on public housing, food retail, and healthcare. In the danish city, Metabolic mapped the volume and composition of plastic imported into the city, how it's consumed by local industrial sectors, key actors, and households within the city as well as by the city itself, and lastly how this stock is collected and managed at the end-of-life.  The lifecycle impacts associated to the plastic consumed within Vejle was identified. In parallel to this, the city mapped the plastic value chains of specific local sites. This analysis worked in tandem to the city's own research by uncovering plastic consumption patterns and impacts of households, whole sectors, and between sectors. This helped to place site-specific studies in a broader context and prioritize specific sectoral interventions.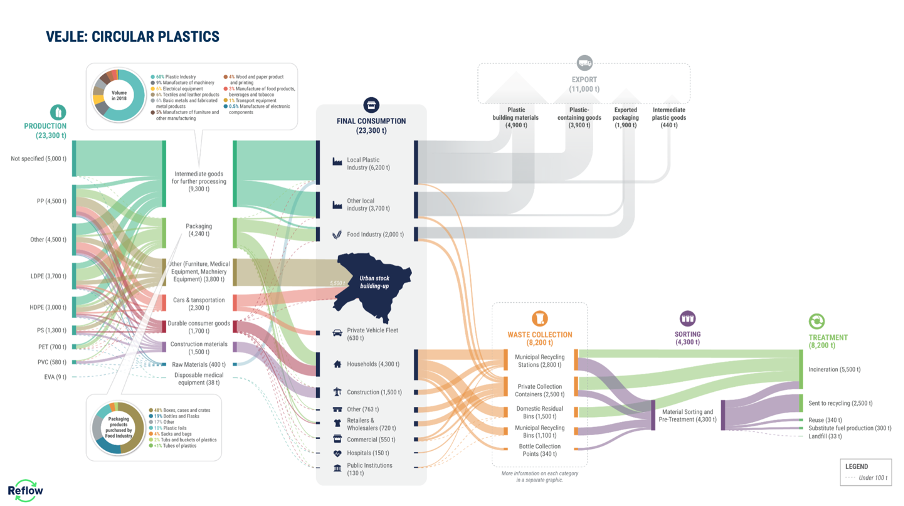 Figure 1: Material flow analysis for plastics in the city of Vejle (Source: Metabolic)
To tackle the identified hotspots and impacts of Vejle's current plastic streams, the outcome of the analysis alerted Vejle to:
Widen the scope of interventions to reduce the upstream impacts associated with Vejle's plastic consumption.

Focus on reducing the consumption of PVC within the local construction and healthcare sectors (the two main consumers of PVC)

Tackle plastic packaging in Vejle through the city's food value chain to reduce consumption and eliminate non-recyclable plastics 

Work with consumers to reduce contamination in particular with food packaging 
Implementing the results of an MFA: lessons from Vejle
Ann Louise Slot, coordinator of the Reflow Pilot in Vejle, Denmark, illustrated how the urban metabolism approach was used within Vejle circular activities.
In the framework of REFLOW, the municipality of Vejle aims to reduce and recycle plastic, starting from an MFA and site-specific plastic waste and stakeholder analysis, which can inform on the right innovative ideation and prototyping with local stakeholders and the broader REFLOW experts. The project also aims to raise awareness and create a local movement towards a more circular future, by using local testing grounds to incorporate plastics into circular strategies.
The complex circular challenge in Vejle is attacked broadly across the different city's actors, so that development and change are made very concrete and progress in the area can be highlighted throughout the city. To that end, 5 different scenarios were identified:
Decreasing plastic streams in healthcare

(

test site: Sofiegården):

Prototyping on new solutions that will decrease the use of plastic in the health care sector – and scaling the solutions to a regional/national level, through partnerships, procurement policy, prototyping on waste management

Creating circular loops and value chain collaboration in retail

(

Testsite: REMA1000

): Prototyping on creating new circular loops for specific plastic types; scaling this to other companies through value chain partnerships and scalable loops

Creating better sorting systems in apartment buildings

(

Testsite: Den Gamle Gård):

Prototyping on helping the inhabitants sort their waste better and thus enhancing the plastic recycling through awareness creation and testing prototypes on waste management/sorting

Enhancing citizen engagement & capacity building

(

Testsite: Spinderihallerne

): Executing citizen, maker, and entrepreneur engagement and capacity building activities with FabLab workshops, talks, BioLab experiments, co-creation processes with schools, exhibitions.

Testing an online platform for material exchange through REFLOW OS

(

Testsite: The new Resource Center)

: Online material exchange between waste-plant, SMEs (and citizens).
What are the opportunities and limitations in doing an urban metabolism? According to Ann Louise, the results of the Vejle MFA gave a holistic and comprehensive understanding of a city's current state and impact. It allowed to identify indirect impacts and cross-sector interdependencies. In terms of decision making, it modeled the pros and cons of targeted interventions and investments. On the limiting side however, doing an MFA remains a highly technical method, which cities and local actors often lack capacity to lead without a trained expert. Second, the accuracy and granularity of insights are dependent on data availability, which can be a strong issue when trying to collect relevant input. Yet, through continuous and close collaboration between partners the approach can bring strong benefits, by providing a systemic view and clearly identifying the role of local actors. The method is best used as a tool for continued exploration and scenario modeling.
Scaling up urban metabolism in European cities
Simon Clement, Senior Coordinator on Sustainable Economy and Procurement at ICLEI Europe and coordinator of City Loops,  a sister project of REFLOW, provided the audience with a broader picture on how such tools and approaches are framed within the European  context. Circular economy, and urban metabolism, are key ingredients of  the new European Green Deal, the Circular Economy Action Plan and the EU Industrial Strategy focusing on a green and digital transition. 
Different EU supporting mechanisms are also being developed: the upcoming Circular Cities & Regions Initiative (CCRI) directly supporting cities and regions on the implementation of systemic circular solutions; Horizon Europe, with upcoming calls on demonstration projects for systemic circular solutions;  the European Circular Economy Stakeholder Platform which acts as a place for knowledge exchange for EU circular stakeholders. Another useful initiative for cities is the European Circular City Declaration which allows local and regional governments across Europe to communicate their commitment to supporting the transition from a linear to a circular economy in Europe, and thereby create a resource-efficient, low-carbon and socially responsible society.
Different studies have recently been published around urban metabolism in cities, but they have been performed on a small number of pioneering cities and the concept is spreading still too slowly. What should we still do to make it the norm in European cities and regions? Several challenges need to be takled:
Focusing on the WHY

: There is still a strong need to understand the benefits of urban metabolism. Having some demonstration examples showing how such approach can provide key insights for decision-making is key. Documenting the process and the lessons learnt is also critical. Understanding that it is a several step process that is more about collaboration than a complex academic research is fundamental. Designing effective communication material can also help decision makers to get a better understanding of the value such studies can provide.

Focusing on the HOW:

Effective and accurate data collection can be a challenge. Data standardisation, data interoperability and data access should be generalised to support the development of accurate MFAs. The promotion of digital twins, the development of big data platform at city level is also important to address this issue.

Focusing on the WHO:

how can cities be trained and guided to perform such studies without the help of external experts? The creation of simplified tools and guidance could help.  The process could also be eased through data collection automation; In depth training, workshops as well as city to city exchanges should be scaled up.
Two initiatives aim to contribute to these challenges: CityLoops, which aims to offer a sector-wide urban circularity assessment methodology & data hub platform, a decision-maker online dashboard as well as video tutorials and online training courses; Circle City Scan, a tool to guide users through a 4-stage process of developing a circular economy action plan, including conducting a metabolic study.
Interested in learning more? Watch the full webinar here, browse through the REFLOW Academy resources, or join the conversation on the REFLOW Forum.