Maison & Objet is often described as the "go-to platform for the design sector".
For 25 years, this international trade show brings together the international design, home decor and lifestyle communities, and hosts more than 5,000 exhibitors and 250,000 visitors per year, on two different editions.
As every show and fair, this type of event consumes a huge amount of matter, from wood to carpets and textile, passing by metals and wires or electronic components. A large part of it is wasted at the end of the event.

The event industry sector is aware of this major issue, but still struggles to develop systems and solutions to solve this problem. The Reflow Paris team, through Fab City Grand Paris, works on this challenge and supports local actors into their journey through circularity.


INTENTION
We developed a partnership with Maison & Objet organizers to support, in a pragmatic way, their willingness to increase the reuse of materials.
To face this challenge we came up with a mixed concept : collecting as much wood as we could, from the previous edition, and transform this matter into a complete scenography system. This set up of fournitures would then be used for an exhibition dedicated to the circular economy. We agreed to make it happen for the March 2022 edition. We had 6 months to realize this project. Here is what happened.


PROCESS
First, we identified sources of potentially reusable wood with the help of the fair technical team. Then we came during the September 2021 edition, with a huge truck and collected almost 4 tons of wood, from exhibitors and organizers, that were supposed to be wasted.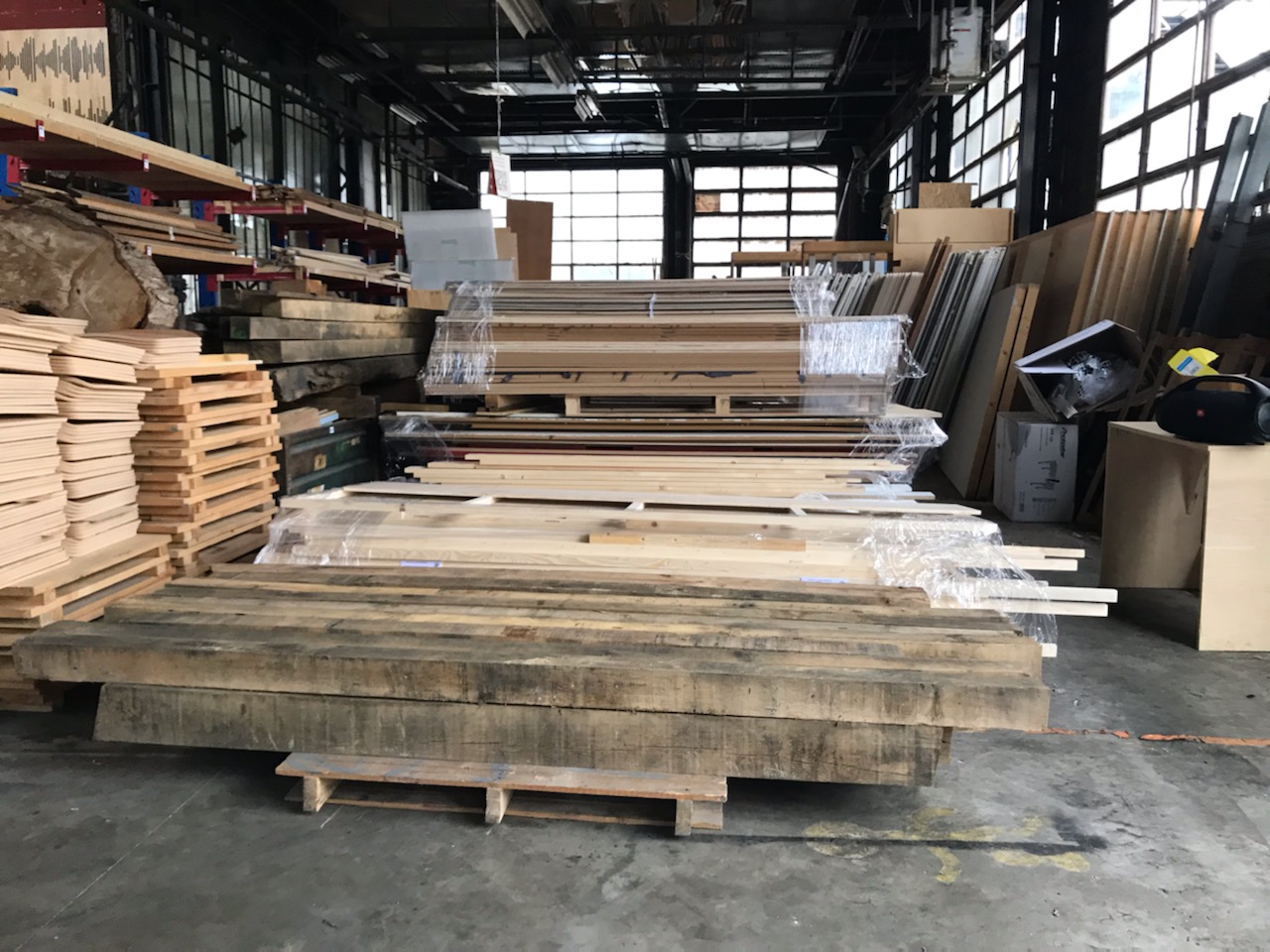 We decided to store all this wood at Re-Store, one of our partners, based in Saint-Denis. Re-Store is a collective of craftsmen, architects, designers and entrepreneurs sharing the goal of reducing wood waste by developing solutions that are part of the circular economy.
This wood was then digitized in a database thanks to the Dimension-use, a project we developed together with the agency WAO: www.wao.paris
After that WAO went through the design phase to shape the whole scenography, only by using this wood. The idea was to create a flexible and modular system that is as robust as aesthetically pleasant. This set up had to be functional but also include spaces that could host objects and printings as the purpose was to offer an exhibition.

Here below, some 3D projections that have been made by WAO's designers and architects: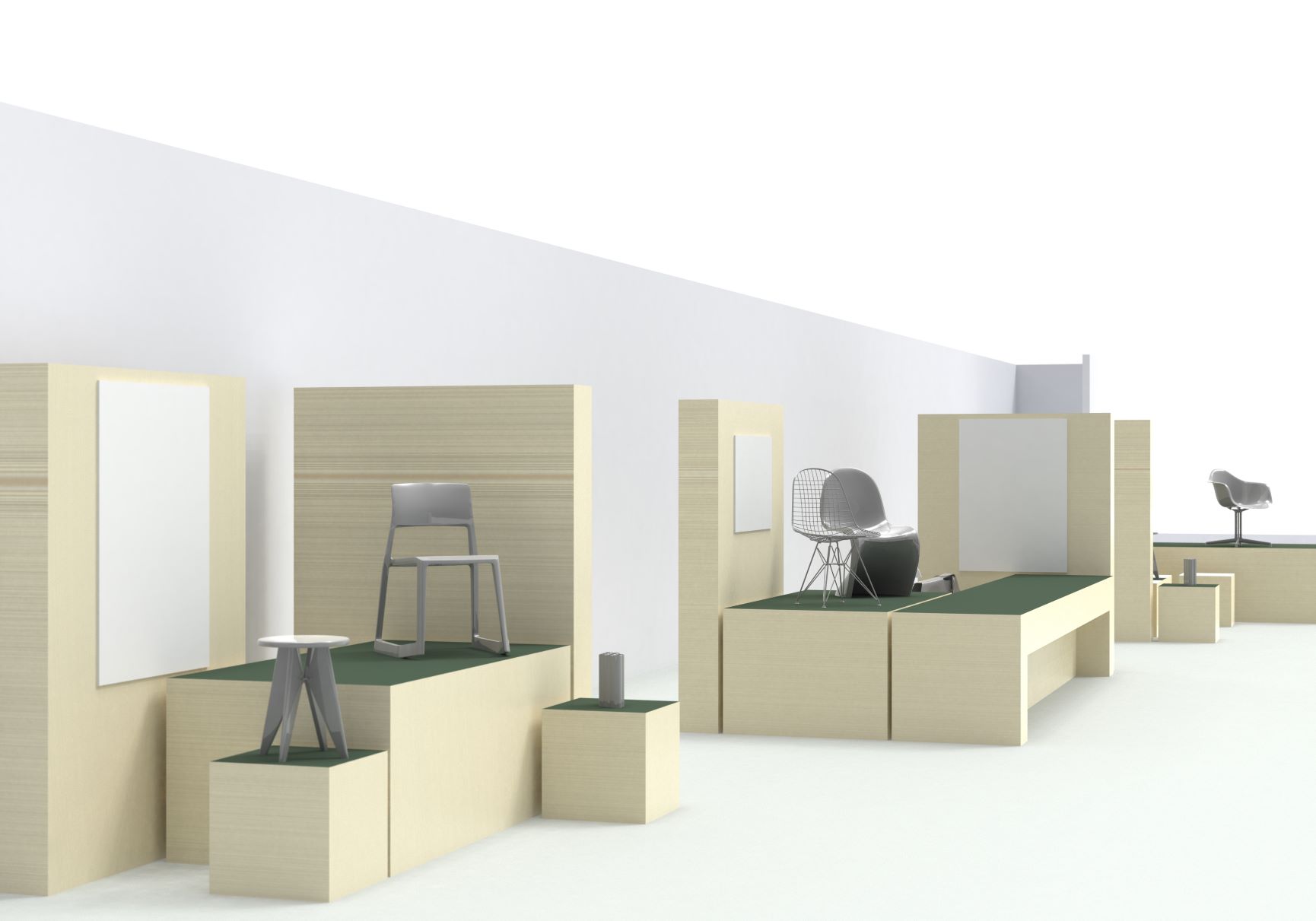 Then we went through a curation phase, to enrich our installation. We reached some designers from our network and invited them to be part of our exhibition at Maison & Objet, so they could present their creations. Of course our selection had to be related to circular economy. 
We picked out our favorite projects, which included works from Nicolas Courselle & Juliette Richard, Studio Pourquoi Pas, R-USE , Remake, Escape design, Thibault Louvet, Quentin Perchais , Warren & laetitia, atelier21 et FabBrick.
In the meantime Wao was going through the fabrication process of the scenography, and gave life to it, with the help of Juliette Richard and Nicolas Courselle, who built the scenography in Re-Store workshop. 
Few weeks passed…
RESULT
On the 22th of March 2022, we were on point and this is how it looked: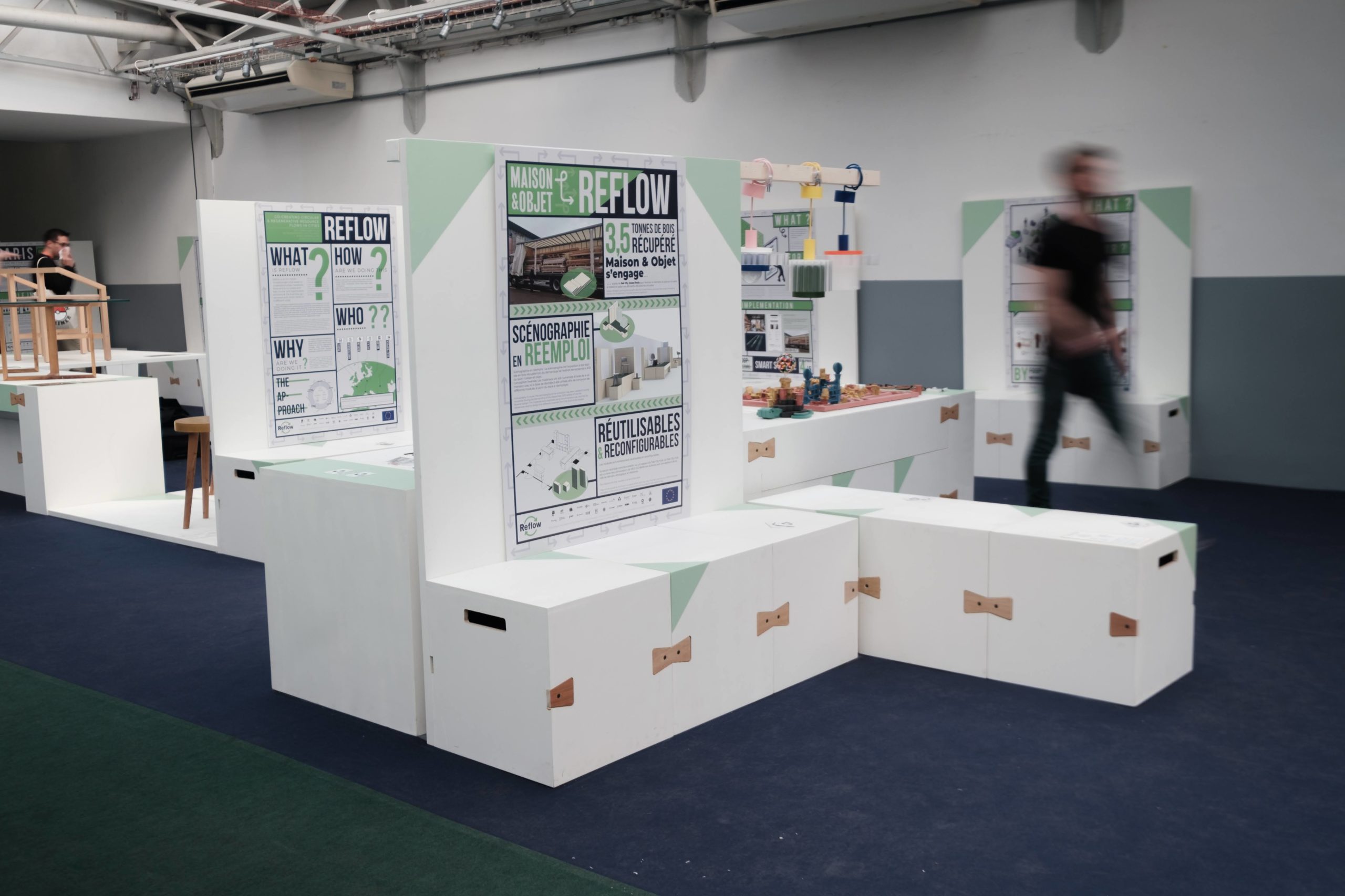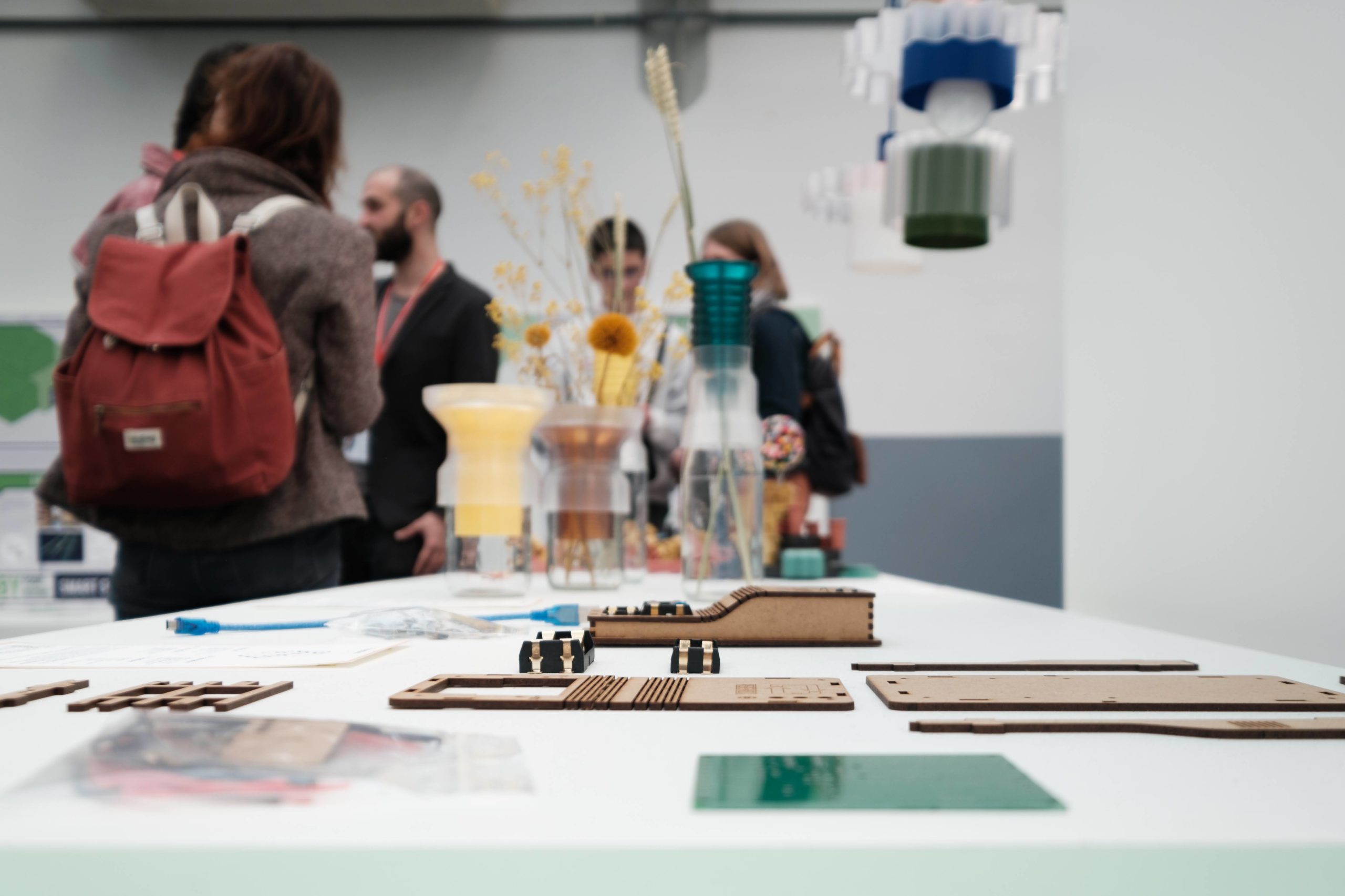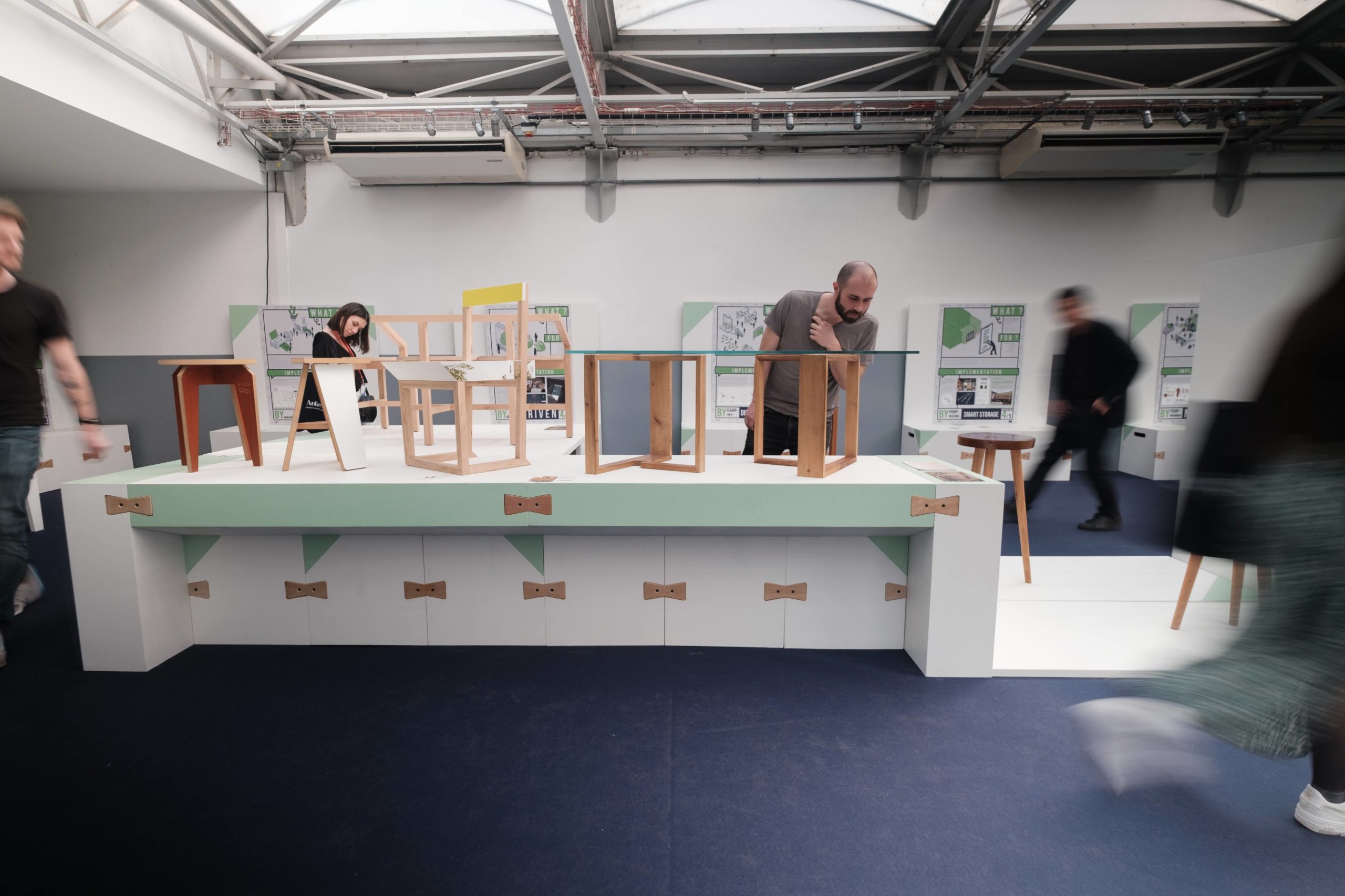 FEEDBACK
Mission accomplished! We are deeply proud of this project. We had to deal with around 30 different stakeholders, from technical partners and logisticians to the organizers, passing by agencies, designers and fabricants. Beyond our own achievement, we also noticed a serious interest for circularity in the event industry; several companies and actors came to us and offered us the opportunity to collaborate on similar projects.
The same goes with visitors. They acknowledged our work and were happily surprised to see such an initiative. Most of them, like us, think that this type of initiative should not be an exception or a singular project but more a generalized and normalized process for each event.


NEXT STEPS?
This is actually not the end of this project…
As circularity runs into our blood we couldn't end up a project this way, we had to give a third life to all this matter. We decided to give even more value to this project by moving all the furniture to our new place, at Fab City Hub that just opened recently.
If you are curious about this project, or plan to bring circularity into your own events do not hesitate to reach us!