Many industries produce a large amount of plastic waste, which is predominantly incinerated. The process of incineration produces carbon dioxide, which is very harmful for the planet. Therefore, it is necessary for businesses to work on the possibility of using their waste as a resource that can be reused and recycled, and in that way, given a new life again and again.
As one of six pilot cities in REFLOW, Vejle Municipality and Danish Design Center have joined forces with the supermarket discount chain REMA 1000. Together, they have experimented with new solutions that can ensure the reuse and recycling of plastic packaging. The objective has been to create new circular loops.
Managing waste flows while maintaining the main purpose
REMA 1000 is among the pilot city's five test sites, all of which work to make site-specific experiments and optimisations which will provide new knowledge that can be further scaled. The goal of the retail store REMA 1000 is to increase their awareness and knowledge of the stores' waste flows, in order to learn new ways of managing the waste without compromising the store's main purpose, which is to provide groceries to their customers.
The effort at REMA 1000 has involved a local test site established at a REMA 1000 store in Vejle. This specific test site has been involved throughout the entire process: from investigating problems and potentials, in the development of prototypes and testing of new logistics and waste containers on the site.
Turning complex issues into new opportunities
Through the collaboration with REMA 1000 and Danish Design Center, the Vejle pilot has learned that it is beneficial to break down the complexity of the issues by gaining experience on a micro-scale. Therefore, the collaboration has involved work with specific resources, such as candy boxes and flower buckets. These two types of plastic containers have been identified as resources that carry a great potential to be included in new circular and closed loops.
Through co-creation the pilot has worked with different future scenarios for reusing and recycling candy boxes and flower buckets by testing new solutions at the local REMA 1000 store in Vejle.
By gathering REMA 1000s value chain and implementing new sorting solutions in the local store, the results shows that the local REMA 1000 Store in Vejle reduced the amount of plastic sent for incineration by 50 %. When the solution is scaled at the remaining 360 REMA 1000 stores, more than 600 tonnes of plastic are sent for recycling.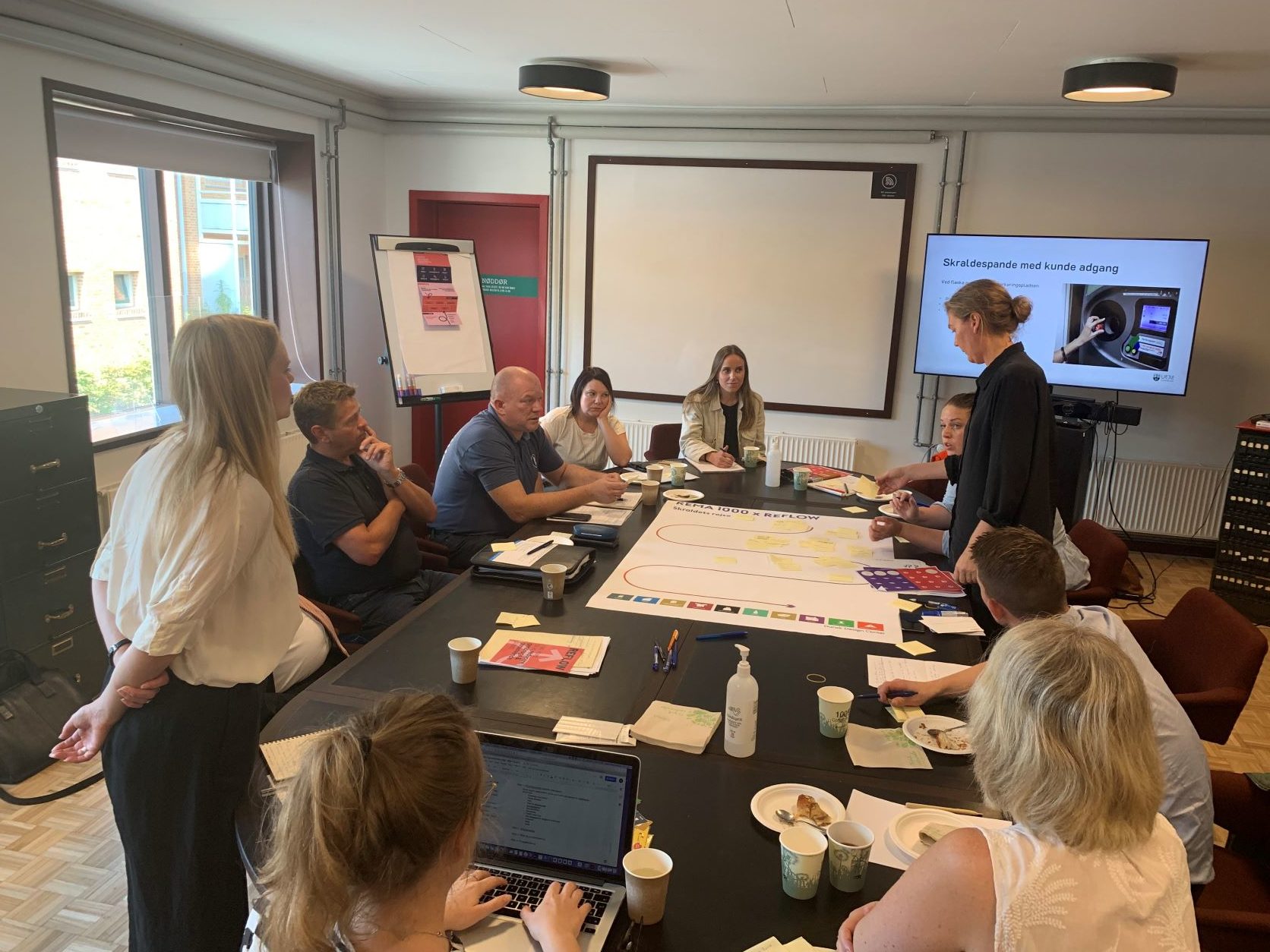 "When REMA 1000 engages in this kind of effort it is not only to optimize our own business and circular initiatives but also to share these insights with others to benefit an even greater impact" – Buying & marketing director at REMA 1000 Denmark, Anders Jensen.
Close the Loop: The Circular Value Chain Game
Through the collaboration between Vejle, DDC and REMA 1000, the pilot city has developed and tested a new innovative solution to tackle the issues within the circular economy and creating businesses that are environmentally friendly. The game is a collaborative board game that can be facilitated in a workshop format.
Here, the Value Chain Game is a tool to create a process that brings together all stakeholders in a value chain within both production, consumption and disposal of plastic waste.
"It is absolutely crucial that we have found out what value it creates to put together all the actors that are part of our value chains" – Manager of own brands, Gunhild Nørgaard at REMA 1000 Danmark A / S.
By engaging all these stakeholders in the value chain, a crucial step is taken to enter into a partnership to minimize waste and view waste as a valuable resource. Here, the game helps and guides to create and maintain a common vision and mission, which will have a significant positive impact for both the environment and for the stakeholders involved.
We have learned that the best solutions for the circular economy are found through co-creation. And the game is here to help you through the process in a fun and playful way. It helps you:
Visualize your current value chain
Identify opportunities for circular loops
Understand and incorporate each other's perspectives and competencies
Increase your sustainable, circular efforts through a clear and focused effort
Get started on your own journey
The Value Chain Game is an open-sourced tool and it is available for download here. You will find it both in Danish and in English.
You will find a detailed description of the game and helpful guidance that unfolds every phase of the game. With this tool it is easy and manageable to get your journey started.
The pilot city has learned that:
There is great value in putting together actors across the value chain
Public-private partnerships have the potential to create crucial change together
When we focus on one waste fraction, it spreads positively to all other fractions